Survivor Voices wants to uplift women, and this new feature highlights the amazing things women are doing all over the world. The first in the series documents Nadia Stephenson (IG: @nadia.adventures) as she does a hike from Kathmandu to Everest's base camp in order to raise funds for the UK-based organisation, Women's Aid.
Survivor Voices caught up with Nadia and chatted with her about the trip and the cause that is close to her heart, as well as shattering stereotypes of women travelling the world alone.
SV: You are quite a seasoned traveller. Tell us about this trip and how it differs from your previous travels.
NS: This hike is actually part of a longer six-week "qualification leave" trip to Bali, Nepal and Japan to celebrate qualifying as a lawyer, after having worked in Hong Kong for six months.
I've done quite a lot of hiking while travelling in the past. For example, I spent a few days hiking in Patagonia and Brazil. I've even made it up Table Mountain a couple of times. However, I've never hiked for such an extended period of time and at high altitude. These days, I've somewhat swapped the backpacker life for good food and cocktails by the pool so I'm a little worried about how I'll cope during the trek. I've heard the teahouses (the standard accommodation) are pretty basic, and it gets very cold up there. There are also the added worries of altitude sickness and food poisoning. Safe to say it's going to be tough, but I have the added boost that I'm doing this for charity and not just for myself to keep me motivated.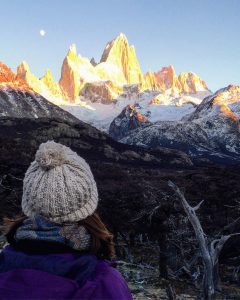 SV: Can you talk us through the hike – where do you start, what is the route, and where do you end?
NS: I'll fly into Kathmandu in Nepal where I'll meet the leader of our trek and the other members of the group. On 24 September 2018, we fly from Kathmandu to Lukla (otherwise known as the world's most dangerous airport!) before starting the 12-day round trip to Everest Base Camp. On the way up we'll hike for roughly five to seven hours a day and have a couple of rest and acclimatisation days before reaching Base Camp on day nine. The route back down is shorter, ending at Lukla to fly back to Kathmandu.
SV: You are raising funds for Women's Aid. Why the interest in this?
NS: I chose to raise money for Women's Aid as it's a cause I care a lot about. It's unbelievable that in 2018, two women are killed every week by their partner or ex-partner in England and Wales. Women's Aid is a grassroots federation, which is working to provide life-saving services to victims of domestic abuse. Their aim is to help build a future where domestic violence is not tolerated. How can anyone not support that cause?
SV: How can people donate?
NS: By visiting my everyday hero page. It's a UK site, so if anyone has problems donating they're welcome to contact me directly and we can work out an alternative. I've recently upped my fundraising target to £800, but it would be great to raise more than £1 000.
Women's Aid is a UK-based charity, so if you'd prefer to donate to a South African charity then please do so, every donation helps!
SV: There are so many stereotypes and concerns about women travelling alone; so can you tell us some of your experiences that have highlighted those beliefs?
NS: I've travelled in more than ten countries alone and can honestly say I've never felt threatened. However, I have met a lot of people who were shocked and concerned that I would dare go to another country without a man or a parent (I'm in my late 20s…) to look after me. People also tell me that certain countries are dangerous, despite having never been there themselves.
After university, I lived abroad for 18 months then backpacked for six months. While travelling, I was regularly asked why I didn't have a boyfriend or why I hadn't settled down … as if it couldn't possibly be by choice!
When I got back to the UK, I increasingly got the impression from some people that they thought I didn't fit in, because I chose to travel rather than "the norm" of getting engaged and buying a house. But I'm so glad I had the chance to move and experience life in so many other countries. Everyone is welcome to walk their own path, but I really believe that travelling equips you for life more than anything else. I've never grown so much as a person as when I was away for those two years.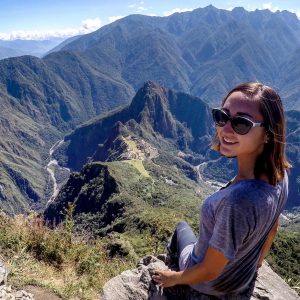 SV: What have you done to shatter those stereotypes?
NS: I think solo female travellers are really important for overturning these stereotypes. The issue isn't really women travelling alone; it's society's preconceived notions about what women should and shouldn't do. Just because you don't have someone to travel with you doesn't mean you should be scared to travel. If anything, going to so many countries alone has made me realise how wrong people usually are about those places. I've met so many warm, welcoming and happy people in so-called dangerous countries.
I try to tell as many people as possible about my travel experiences and inspire others to travel alone through social media. I started posting photos of my solo travels to my Instagram four years ago not really thinking about the impact it might have, but since then I've had a lot of people tell me I inspired them to travel alone or to a country they wouldn't usually have gone to, or just message me asking for travel tips or encouragement.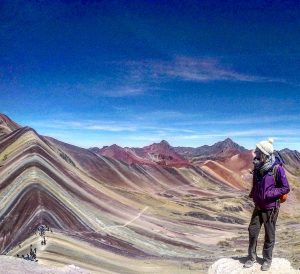 SV: South African women, in particular, are rising up against gender-based violence. What advice and inspiration do you hope to give to women around the world, and what can you tell our South Africa sisters to inspire them?
NS: I actually hadn't heard of #TheTotalShutdown before, and I didn't know that South Africa's femicide rate is nearly five times higher than the global average. Although I'm not surprised the march didn't get much coverage in the UK media.
By fundraising for this hike, I'm not trying to advise anyone or put pressure on other women to do something similar. I just want to raise money for a worthwhile cause and keep people talking about gender-based violence. If we don't keep talking about it then nothing is going to change. If my hike inspires just one person then I'll be happy! – SV